Jakarta – PT Lippo Karawaci Tbk ("LPKR"), Indonesia's leading integrated real estate developer, today announced the groundbreaking of the Axia III residential development ("Axia III") in Lippo Cikarang by PT Toyota TsushoReal Estate Cikarang ("Toyota Tsusho"). Axia III marks the next phase of the longstanding and valued relationship between the two companies, as demonstrated by the success of Axia I and II.
Axia III is a Japanese-inspired, state-of-the-art high-rise residential development, located at the heart of Lippo Cikarang. It is strategically located within the Bekasi, Karawang and Purwakarta Industrial corridor – the largest industrial zone in Southeast Asia. Given the influx of foreign direct investment into Cikarang, especially from Japanese companies, Axia III is well designed to serve the needs of Indonesians as well as the growing Japanese expatriate community in the area.
The timing of Axia III's groundbreaking is opportune, amid Indonesia's growth momentum triggered by President Joko Widodo's re-election and the recent S&P country rating upgrade, providing the assurance for greater foreign direct investment and economic development.
Mr. John Riady, CEO of LPKR, commented: "Allow me to thank Toyota Tsusho for their partnership and for joining us in our commitment to invest in Indonesia. The expansion of Axia will be a valuable addition to the Cikarang community, delivering world-class options for the flourishing residential market and boosting Cikarang's attractiveness as a place to live and work."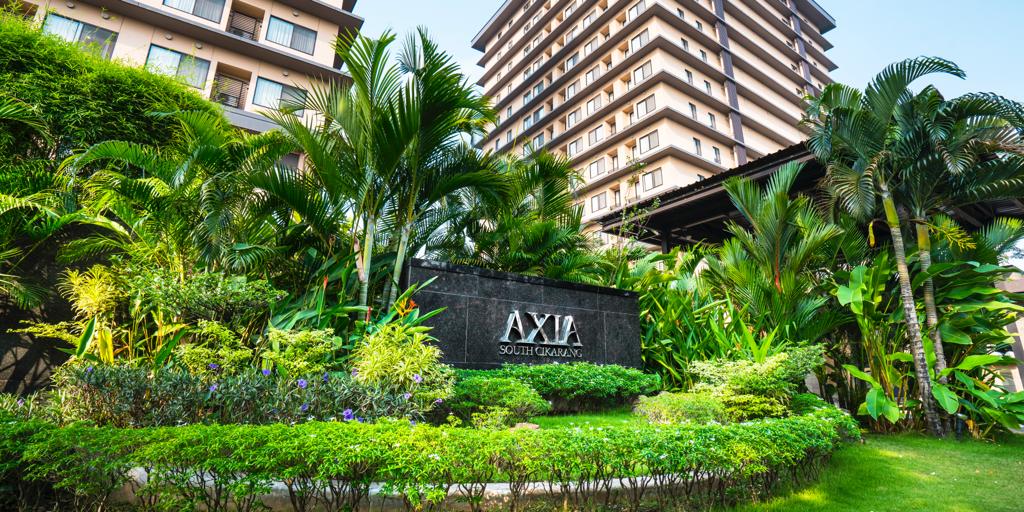 About Lippo Karawaci ("LPKR") (www.lippokarawaci.co.id)
Listed on the Indonesia Stock Exchange, Lippo Karawaci ("LPKR") is Indonesia's leading integrated real estate company with total assets of US$3.9bn at 31 March 2019. Our core business comprises urban residential developments, lifestyle malls and healthcare. We are also actively involved in integrated developments, hospitality, township development and management, as well as asset management services.
Present in 36 cities, we are Indonesia's leading property developer with 1,283 ha of landbank ready for development. Through our two publicly listed subsidiaries, PT Lippo Cikarang Tbk, and PT Gowa Makassar Tourism Development Tbk, of which LPKR owns 54.4% and 62.7% respectively, LPKR develops and operates urban developments at Lippo Cikarang in Bekasi and at Tanjung Bunga in Makassar. Additionally, LPKR owns 51.05% of PT Siloam International Hospitals Tbk, Indonesia's leading private hospitals network, with 37 hospitals across 28 cities nationwide.
LPKR also has two listed REITs in Singapore, namely First Real Estate Investment Trust and Lippo Malls Indonesia Retail Trust with US$1.0bn and US$1.5bn of assets under management respectively, as at 31 March 2019.

For more information please contact:
Investor Relations:
Bret Ginesky
Head of Investor Relations
Bret.Ginesky@lippokarawaci.co.id
Mobile: +62818181815
Corporate Communications:
Danang Kemayan Jati
Vice President, Head of Corporate Communications
DanangJ@lippokarawaci.co.id
Mobile: +628557801299

This press release has been prepared by PT Lippo Karawaci Tbk ("LPKR") and is circulated for the purpose of general information only. It is not intended for any specific person or purpose and does not constitute a recommendation regarding the securities of LPKR. No warranty (expressed or implied) is made to the accuracy or completeness of the information. All opinions and estimations included in this release constitute our judgment as of this date and are subject to change without prior notice. LPKR disclaims any responsibility or liability whatsoever arising which may be brought against or suffered by any person as a result of reliance upon the whole or any part of the contents of this press release and neither LPKR nor any of its affiliated companies and their respective employees and agents accepts liability for any errors, omissions, negligent or otherwise, in this press release and any inaccuracy herein or omission here from which might otherwise arise.
Forward-Looking Statements
Certain statements in this release are or may be forward- looking statements. These statements typically contain words such as "will", "expects" and "anticipates" and words of similar import. By their nature, forward looking statements involve a number of risks and uncertainties that could cause actual events or results to differ materially from those described in this release. Factors that could cause actual results to differ include, but are not limited to, economic, social and political conditions in Indonesia; the state of the property industry in Indonesia; prevailing market conditions; increases in regulatory burdens in Indonesia, including environmental regulations and compliance costs; fluctuations in foreign currency exchange rates; interest rate trends, cost of capital and capital availability; the anticipated demand and selling prices for our developments and related capital expenditures and investments; the cost of construction; availability of real estate property; competition from other companies and venues; shifts in customer demands; changes in operation expenses, including employee wages, benefits and training, governmental and public policy changes; our ability to be and remain competitive; our financial condition, business strategy as well as the plans and objectives of our management for future operations; generation of future receivables; and environmental compliance and remediation. Should one or more of these uncertainties or risks, among others, materialize, actual results may vary materially from those estimated, anticipated or projected. Specifically, but without limitation, capital costs could increase, projects could be delayed and anticipated improvements in production, capacity or performance might not be fully realized. Although we believe that the expectations of our management as reflected by such forward-looking statements are reasonable based on information currently available to us, no assurances can be given that such expectations will prove to have been correct. You should not unduly rely on such statements. In any event, these statements speak only as of the date hereof, and we undertake no obligation to update or revise any of them, whether as a result of new information, future events or otherwise.